What is Push to Talk over Cellular (POC)?
When many people think of a two way radio or 'walkie talkies' it could be a traditional hand held two way radio springs to mind: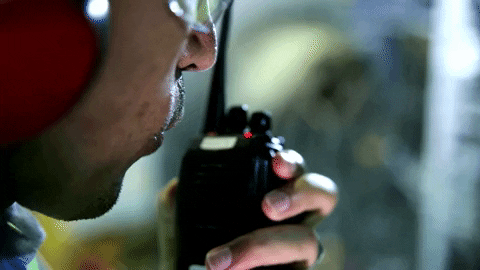 Radio communications have come a long way; two way radio communications are critical to police, ambulance, the fire service, mountain rescue, the petrochemical industry, construction and many hazardous working environments to ensure reliable fail safe communications at critical times.
However, it is not just emergency services and hazardous working environments that need reliable communication channels.
Transport service such as bus, train and trams, local authorities, council fleets, schools, universities, taxi companies, event organisers and many more need seamless communications between staff.
POC or sometimes known as 'press to transmit' is a service that give all the features and benefits of two way radio but can be utilised on either a dedicated device or an android mobile handset.
How does POC work?
POC uses cellular and Wi-Fi networks and does not need any additional infrastructure to cover large areas. This means that it offers a cost-effective way of extending the reach of a radio system which can include non-radio users.
POC (Push to Talk over Cellular) enables users to replicate two-way radio features on their cellular phone with the use of an app.
The app allows the mobile phone user to make one to one, one to a specified group or one to many calls, like a radio, at the push of a button.
What are the advantages of Push to talk over cellular?
Communicate rapidly and efficiently with your work force where ever you have a Wi-Fi or cellular connection anywhere in the world
Track and monitor users via GPS location for improved Health & Safety
Reduce mobile & SMS messaging costs
Transmit voice instructions instantly to individuals or groups
No complex or expensive infrastructure required
Use the same smart device to run other work centric applications, e.g. job ticketing
Secure and reliable communications
Scalable cloud based solution – Add users instantly
Hosted solutions also available
Push to talk over cellular works seamlessly across networks allowing the user to communicate across any platform including cellular networks (2G, 3G, 4G), Wi-Fi platforms, broadband and two-way radio networks, providing maximum possible coverage.
One to one or multiple groups can accommodate up to 250 users and each can be configured with a unique profile, defining talk groups and private call capabilities.
Push to talk offers reliable, highly secure, business critical communications whether connecting via cellular, LTE networks or Wi-Fi. l Instant text imaging and messaging
The services provides GPS position for location tracking allowing you to track, locate and identify where your workforce are in the field for improved Health & Safety.
In an emergency POC has an emergency alert button on supported devices
What next?
To find out more or to get a quote we can be contacted in a few different ways:
📞Telephone: 01383 736621
📧 enquiries@bridgesystemsltd.com